I'm no psychic, so don't be freaked out, but I'm guessing you have videos saved on your computer. And even more videos – maybe a million or so – on your phone. Was I right? You probably also have a TV that is a larger and more comfortable screen to watch your videos. You also like bacon and gummy bears and sometimes lay awake at night wondering why they haven't made a remake of "Demolition Man" yet. Okay, maybe I'm a little psychic.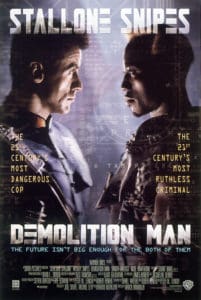 What's not to love? It's got Stallone and Snipes cryogenically frozen … and even Dan Cortese (from MTV Sports fame in the '90's) as a 'Taco Bell Entertainer'. Need I say more?
So, you have all these videos on small screens – let us help you enjoy them on your big screen! There are two easy (and FREE) ways to do this with DivX tools.
---
1. CAST WITH DIVX MEDIA SERVER IN DIVX PLAYER
Get comfortable on your couch and watch your videos (not just DivX files) from your computer to your TV. Cast to a connected TV, Roku, Chromecast, PS3, Xbox and more. Available on Windows and Mac
How?
1. Make sure DivX Media Server has sharing turned on. To do this:
Open DivX Player, rollover the DivX Media Server icon in the bottom right of the control bar and select "Settings". You can also access the settings using Player> Tools> Stream Videos…
Make sure "Sharing" is turned to ON. Note that your TV or device must be on the same network as your computer.
2. From the DivX Media Server icon in the bottom right (again), select "Stream To" to select a video and choose your cast device. If a video is currently playing in DivX Player when you select "Stream To", that video that will be casted. (You can also right-click on a video in your library and select "Stream To".)
3. Your video should start playing on your TV!
If you run into any challenges, please check out our Support site for more help with DivX Media Server. Note that instead of casting, you can also change your input on the TV or device to find DivX Media Server and pull videos directly from your computer. Your TV or device should be a DLNA Client in this case.
What devices work with DivX Media Server?
Lots of devices! Many smart TVs (LG, Samsung, etc.) as well as most media streamers (Roku, Chromecast, etc.) plus game consoles (Xbox, PlayStation).
DivX Media Server comes with free DivX Software.
Now go out there, sit your butt on your coach and cast some videos!