Follow one brave woman's quest to watch 46 nominated movies in 34 days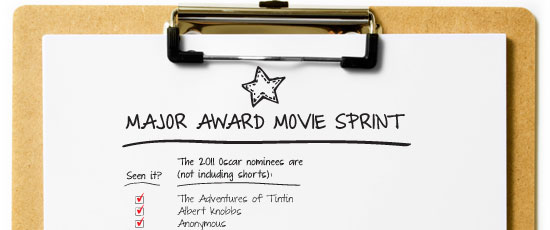 Only a crazy person would try to watch all the movies given an Oscar® nomination in the month before the Oscars are awarded, right?
Well, call me crazy.
It's true – I'm going to attempt to see 46 movies in 34 days. In fact, I've tackled this challenge every February for the past dozen or so years. I used to call this movie marathon The Oscar Run, but since the Academy is a little touchy about folks throwing around the word "Oscar," let's call this the Major Award Movie Sprint.
It's my intention to not only see all these movies, but share some thoughts on them with you. Tell you which of these movies are worth your time and money, and which aren't. Point out the "little movies" you might otherwise miss. Warn you of the dangers of an all-popcorn diet.
You can keep up with my movie sprint here on the DivX blog, where I'll post updates, or on the DivX Facebook page and Twitter account.
Are you crazy enough to join me and attempt a movie sprint of your own? Simply click the scorecard image below, print it out, and check off the movies as you see them. Let me know how you do via Facebook and Twitter! Those who have made the most progress will get a mention in a future blog post and endless movie geek street cred.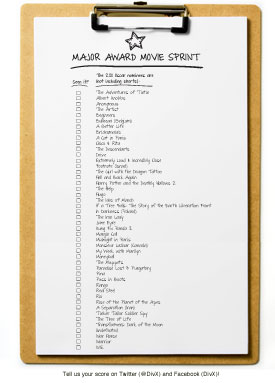 Here's the dizzying array of movies I'll be seeing:
The Adventures of Tintin
Albert Knobbs
Anonymous
The Artist
Beginners
Bullhead (Belgium)
A Better Life
Bridesmaids
A Cat in Paris
Chico & Rita
The Descendants
Drive
Extremely Loud & Incredibly Close
Footnote (Israel)
The Girl with the Dragon Tattoo
Hell and Back Again
Harry Potter and the Deathly Hallows 2
The Help
Hugo
The Ides of March
If a Tree Falls: The Story of the Earth Liberation Front
In Darkness (Poland)
The Iron Lady
Jane Eyre
Kung Fu Panda 2
Margin Call
Midnight in Paris
Monsieur Lazhar (Canada)
My Week with Marilyn
Moneyball
The Muppets
Paradise Lost 3: Purgatory
Pina
Puss in Boots
Rango
Real Steel
Rio
Rise of the Planet of the Apes
A Separation (Iran)
Tinker Tailor Soldier Spy
The Tree of Life
Transformers: Dark of the Moon
Undefeated
War Horse
Warrior
W.E.
For a full list of all Oscar nominees and their categories, please see the AMPAS website.
Happy moviegoing, and remember, it's not a marathon, it's a sprint!