22 movies watched, 24 movies to go, 17 days left!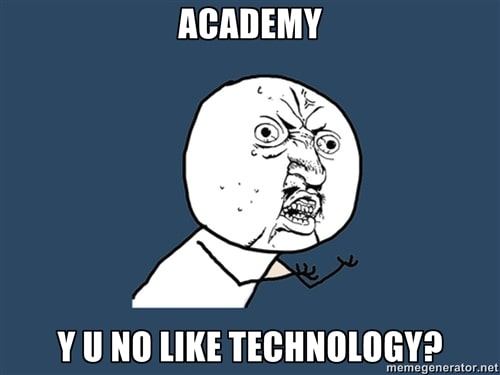 What's the Major Award Movie Sprint? It's my attempt to see every Oscar-nominated movie before the awards are given on February 26. That's 46 movies in 34 days! Today marks the halfway point, and so far, I'm on pace to see all the films on the list. At the moment, I've seen these 22.
I'll hold off on making picks and predictions until I've seen more movies, but I can share some thoughts on what I've seen so far:
Define "Animated." How does The Adventures of Tintin not get nominated for Best Animated Feature Film? The Academy seems to not recognize motion capture as animation, as The Polar Express was similarly snubbed in 2005.
Define "Actor." Andy Serkis got left out of the noms again. Another motion capture snub? ACADEMY, Y U NO LIKE TECHNOLOGY?
Drive was robbed! @DivX follower @DaleMandell thinks it should have been nominated for Best Actor (Ryan Gosling), Cinematography, and Original Score. I would even add Directing (Nicholas Winding Refn) and Supporting Actor (Albert Brooks). Nothing but Sound Editing? That's a garbage nom.
Speaking of garbage noms…here are some more: W.E. for Costume Design, Rio for Original Song, and Harry Potter and the Deathly Hallows 2 for Makeup.
Big parts with no lines: Jean Dujardin in The Artist, Max Von Sydow in Extremely Loud & Incredibly Close. Both were nominated, neither had any spoken dialogue.
For this we advanced? The dusty, mud-colored, greasy-looking animals in Rango are an argument against high def.
Don't be so hard on Tree of Life. How often do we see a story told in a series of poetic images? We've had enough conventional storytelling. Try something new.
Documentaries in 3D. Pina was the first, but possibly not the last.
Of the 22 films I've seen, here's what I recommend (click the links for more info).
SEE
SKIP
How many Oscar movies have you seen? Download our printable list and tell us your score on Facebook (DivX) and Twitter (@DivX)!