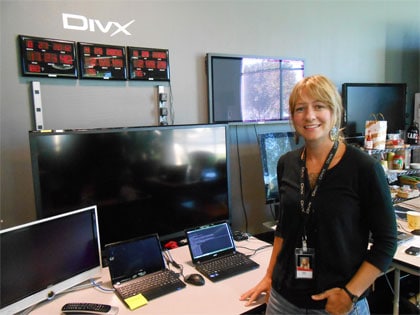 When you see the DivX® logo on a device, how do you know it will play your DivX movies beautifully? Because we've tested it…a lot. Each Blu-ray player, tablet, TV or smartphone makes it into our certification lab for some serious testing before it's bestowed with the DivX Certified® badge. Certification Technician and foosball hustler Amy McDonald tells us just what it takes to get a device DivX Certified.
Amy works in the Certification Lab at our San Diego office, where hard-working technicians test devices up and down to make sure you get high-quality DivX video playback, DRM and support for advanced features on your devices. Manufacturers like Samsung, LG, Panasonic and Sony (yes, the PS3 is DivX Certified) incorporate DivX technology into their consumer electronic devices at the chip level, but we still test those devices before we certify them to ensure they meet our high standards—and yours. As Amy humbly puts it, "We're trying to save the entertainment world, one DivX Certified device at a time."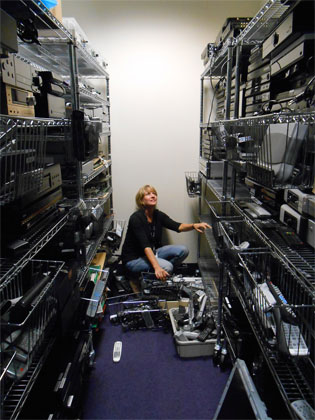 Amy lays out the steps to certification. "First, the device is submitted to DivX by the manufacturer, and we test numerous video clips to make sure everything is working. Any failures in performance are reported back to the manufacturer, who submits new device 'firmware' (the software that runs the device) to be re-tested. This cycle continues until there are no remaining issues and certification is granted."
The most common issues they encounter in testing? According to Amy, "Sound and picture sync issues, aspect ratio stretching, and issues with MKV video playback (the latter is the ability to play high-quality H.264-based DivX HD videos wrapped in an MKV file container, part of our highest DivX Certification profile, commonly known as DivX Plus® HD)." She goes on to explain that she won't pass a device until she confirms that all issues are fixed and no new issues are present.
This rigorous testing means that each device that gets the DivX logo—and there have been a whopping 750 million DivX devices shipped to consumers around the world–will play DivX video. And what advantage does a certified device have over a non-certified device? "Simply stated: DivX quality," says Amy. "You know that tablet or TV or Blu-ray player will play your .divx or .avi files, and your .mkv files for DivX Plus HD devices, smoothly and reliably and with the quality you've come to expect from DivX every single time."
What's the coolest device that's recently been DivX Certified? "Our certification team in Korea just certified the Samsung Galaxy Beam, a smartphone with a built-in projector. So if you have a movie on your phone, you can easily project it on a wall to watch with friends. Now that's cool!"
Though certification is serious business, folks in the Certification Lab manage to have a lot of fun. Amy confesses to taking breaks to prank her coworkers and to play fierce (and often loud) foosball games. She also recently competed in the Rovi Office Olympics…while costumed in a rubber horse-head mask (it's a long story).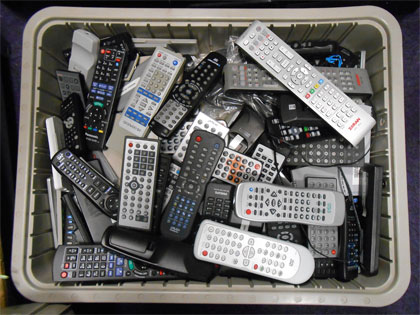 Visiting the Lab is a tech geek's dream. The coolest devices, many not yet available in stores, are stacked floor to ceiling and there's even a big tub filled with remotes. (And, despite the name "tub of remotes," they politely asked me not to bathe in the tub of remotes…again.) So the next time you see the DivX logo on a device, you'll know that someone like Amy has made sure it will play your DivX videos. Enjoy!