Without it, you miss out on the freedom to play your favorite movies where you want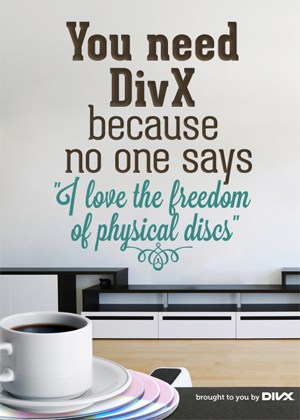 Not long ago, an article came out on Lifehacker called What's the Difference Between All These Video Formats, and Which One Should I Use?
The article was a largely-useful breakdown of what the layman might need to know (and not know) about portable video formats. It talked about why video files need to be compressed and decompressed, gave a short history of codecs and containers, and pointed the reader toward a likely path to successful ripping and sharing of their favorite movies and TV shows.
But like most simplifications of complex things, it got some parts…well, wrong. And of course we noticed the errors that had to do with DivX.
Allow us to do a little DivX myth-busting!

QUOTE: "Examples [of codecs] include…DivX, which works with a certain type of MPEG-4 file, and was often used to rip DVDs in the pre-HD era."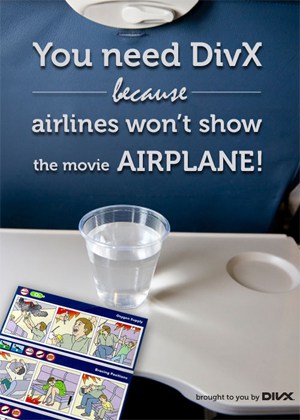 Actually, since 2009, DivX Plus has supported creation of the best quality HD video, H.264, in the most popular container, MKV. Further, more than 1500 consumer electronic devices from top brands (Philips, LG, Panasonic, Sharp, Toshiba and more) are certified for DivX Plus HD, meaning DivX Plus HD files (H.264/MKV) will play on them seamlessly. These devices include digital televisions, Blu-ray players, media players, smartphones, and more.
We work hard to get these devices certified to address the very problem outlined in the Lifehacker article: make it easy on the consumer, so all they have to know is this file plays on that device and looks great.
QUOTE: "DivX and XviD (DivX's open source counterpart) are popular for standard-definition videos, like ripped DVDs, but are mostly outdated, so I wouldn't use them to rip your own DVDs."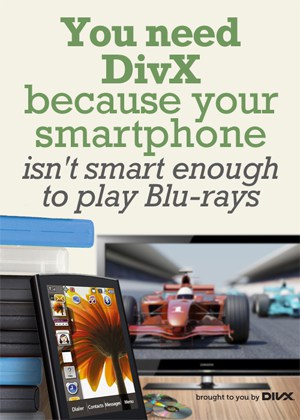 Actually, DivX sells a variety of video software, but none that rips DVDs. The author may have meant the next step in the process, converting a video file to a format your device can read. Converting video to a popular container while maintaining quality doesn't seem like a need that is outdated. And even though DivX has been around since 2000, converting a movie to DivX still means that you'll get high quality at a small file size – plus you can play it on any of the over 600 million DivX devices out there (including Sony's PS3 game console).
QUOTE: "The one downside of MKV is that it isn't as well supported by certain programs and devices. So, if you're putting these videos on your iPad, Apple TV, or Xbox 360, for example, you'll want to go with the more widely supported MP4."
While it's true that Apple products don't support MKV (which is a bummer), this leaves a gap for the many devices certified for DivX Plus HD – which do play MKV files — to fill. And you actually can play DivX videos on your iPad or any other iOS device. Just follow these 3 steps.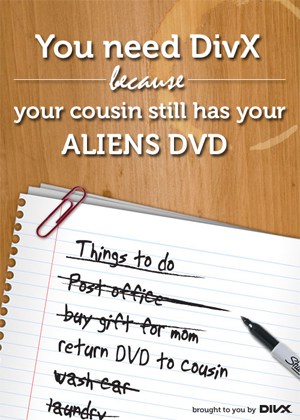 But really, why does any of this matter?
It matters because the movies and shows we love are often stuck in a kind of purgatory, either chained to their physical format ("Why is the DVD not in its case?"), or subject to unpredictable availability on streaming services ("What? You can't stream any James Bond movies on Netflix?"). It matters because when we want to watch our movies, and expect that we can, we are often disappointed.
DivX was created to free video from these chains and give us the freedom to enjoy movies, in high-quality resolution and at a small file size, wherever and whenever we want.
And DivX continues to offer this freedom – which is probably why DivX is mentioned on Twitter an average of 750 times a day. Not bad, considering 12 years have passed since the DivX codec was first used to transfer movies online.
Clearly, you need DivX now more than ever.
Here's how to get it:
Download the free DivX Plus Player. This will let you play .mkv, .divx, .avi, .mp4, or .mov files on your computer, which you can then transfer to another device.
Buy electronics that play DivX. A wide variety of mobile phones, tablets, DVD players, Blu-ray players, and TVs have been tested and certified to play files in the DivX format. Look for the DivX logo when buying electronics, or see our list of DivX Certified products.
Tell the makers of your favorite devices that you want them to play DivX. New versions of gadgets we love come out every year. Let them know what would make you love them even more.
Otherwise, you'll be just like David Hasselhoff…looking for freedom.