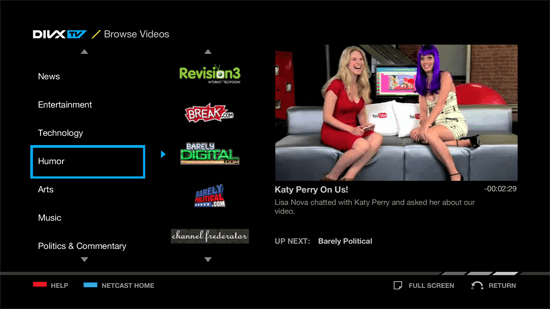 I'll admit it — I love watching TV. Nothing beats sitting on the couch with my feet up enjoying a new episode of 30 Rock. However, and don't tell my TV, but I also love watching shows online. There are some amazing, innovative, wild, hilarious and sometimes disturbing shows that I can only find online. This is why I love DivX TV. I get the comforts of my TV plus limitless online content.
Like the cable TV, DivX TV has many shows to choose from. Rather than by station, the DivX Shows are organized into categories such as humor, technology, music, sports, news, etc. so I can easily find the types of shows that I'm interested in. (And yes, I mostly watch humor shows but tell people I watch the art and news shows – don't judge me.) Best of all, since the content is magically streamed from the Internet, there are no programming times to think about as every show is available whenever I want it.
The types of shows on DivX TV are also different from what I normally find on TV. There are some excellent Internet series (G4TV, Diggnation, The Onion News Network) as well as some truly unique shows (good luck finding Cooking with Coolio and The Cupcake Show on regular broadcast TV). Plus, new shows are automatically added all the time as new content becomes available, so I can always go back to my favorite categories for the latest episodes.
Watching some of my favorite web series (I'm looking at you Between Two Ferns with Zach Galifianakis) on my TV has been a great addition. What shows do you watch online? What else should be included on DivX TV? Let us know on Twitter or Facebook.
Looking for a list of shows on DivX TV?