It's the time of year when everyone embraces the dark and frightening themes of Halloween. Every TV show, candy brand and TV commercial features something creepy. For those of us that don't love scary things, we can't wait for November 1 to roll around and be done with the frights. For you fellow scaredy-cats — and everyone else, really — we present Halloween Comedy Movie Trivia. We may have been a little 'fast and loose' with the definition of a "Halloween Movie", but it's not like we're calling Die Hard a Christmas movie. (We can debate that another day…)
=====================
Scroll down to find the correct answers (and the movie's trailer). Grab yourself a cup of coffee and GOOD LUCK!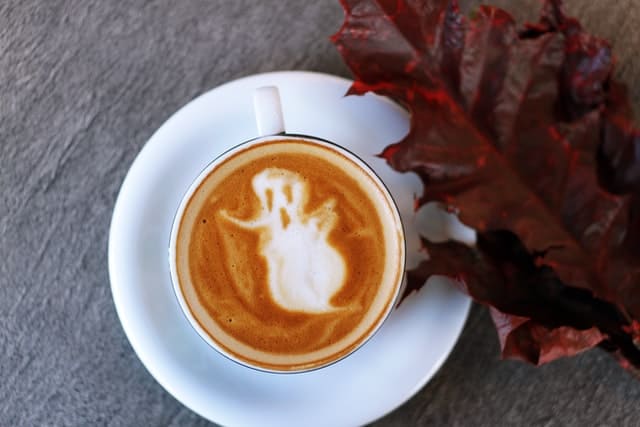 Say his name three times and he appears, but it's not the Candyman … although he was the Batman.
Of all the experiences at Disneyland, they made a movie out of this one? Even Eddie Murphy in his prime couldn't get this movie above a 14% Rotten Tomatoes score.
There are many zombie apocalypse movies, but this one is the funniest (and the best use of a cricket bat). He needs to straighten his tie, straighten out his life, and get things straightened up with his ex before … you know … zombies eat his friends and family.
A story of "Fleshies" vs ghosts sounds like it's going to get gruesome, but this 1995 'friendly' film will still allow you to fall asleep … even if your bed brand name is the same as the title of this movie.
There was another movie about reviving a dead pet that still freaks me out (

Pet Sematary

, yikes). Fortunately, this tale of reviving Sparky is much more fun. Yes it's Tim Burton, it's Halloween-themed and it's stop-motion animation … but which movie is it?
If you're going to name your kid after a day of the week, you better make sure she's as calm, cool and confident as the daughter in this movie. Although they're creepy and kooky, I always wanted to be in this family.
Apparently all the classic monsters (mummies, Frankenstein's monsters, vampires, wolfmen/women, etc.) need a place to get away now and then — especially when the resort owner's daughter is celebrating her 18th (checks notes …) make that 118th birthday!
Inventors creating creepy living creatures is a staple of monster tales (thank you Dr. Frankenstein), but sometimes they die before the project is complete. It could've been worse — he could've used rocks or paper to finish the job.
Puberty is challenging for everyone … but it's even more interesting when you start turning into a werewolf. And who knew that werewolves were so good at basketball? (Just realized that a Fox turned into a Wolf in this movie.)
If it's about ghosts, does it kinda make it a "Halloween movie"? Much like the immortal question of "Who let the dogs out?", this movie posed the powerful question, "Who ya gonna call?"
*
*
No Cheating
*
*
*
1. Beetlejuice (1988)
2. The Haunted Mansion (2003)
3. Shaun of the Dead (2004)
4. Casper (1995)
5. Frankenweenie (2012)
6. Addams Family (1991)
7. Hotel Transylvania (2012)
8. Edward Scissorhands (1990)
9. Teen Wolf (1985)
10. Ghostbusters (1984)
How'd you do? Did you get them all? And, yes, I know some of these aren't technically "Halloween" movies (Teen Wolf and Ghostbusters … and Beetlejuice and probably Hotel Transylvania), but close enough.