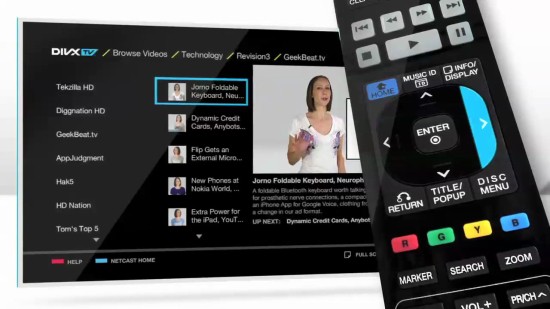 UPDATE: Check out www.divxtv.com to find more information about DivX TV.
How often does a device get better after you buy it? A couple of days ago, tons of LG Blu-ray players across the U.S. had a free firmware update that gave them access to DivX TV. This means that current (and future) owners of supported LG Blu-ray players now have access to the best Internet shows from a wide variety of genres. Out of the box, DivX TV lets you use your remote to explore shows from all over the web with the ease of flipping channels, without the need for a PC.
In addition to the huge number of existing channels, you can even create personalized channels based on your interests. For example, you can save a search for "bacon" or "unicorns" or "unicorn bacon" and videos relating to these disturbing topics will appear. A video walkthrough as well as a list of supported LG Blu-ray players is posted after the break.

No video? Download the DivX Plus Web Player.
DivX TV is available exclusively on the BD550, BD570 and BD590 Blu-ray players from LG (US only). You can pick one up from any of the vendors listed below:
Amazon
J&R
Best
Buy
Fry's
Buy.com
Warning: DivX TV can be wonderfully addicting. My wife and I have been using it for about two weeks now and we love it. This love of DivX TV has truly blossomed after my wife made an amazing "beer-amisu" dessert after the how-to video showed up on her personalized channel. When was the last time your TV inspired a delicious, beer-based dessert?