So you've got your snazzy iPad or iPhone – AND you've got your collection of movies and shows that you've collected over the years. Unfortunately, video formats and native player codec licenses can be confusing, and they likely don't play nicely together. Not to worry! DivX can help you enjoy your media on your favorite devices through a simple video conversion.
DIVX CONVERTER: The easiest way to get your videos to play on an iOS device is to use the DivX Converter, which is included in free DivX Software available for Windows or Mac. In three simple steps, you're good to go:
Open up the Converter and drag your video(s) onto the interface (or click "Add files").
Select the output profile you want. In this case, select the option for "iPad" or "iPhone".
Click the "Start" button (the big green button on the top-left).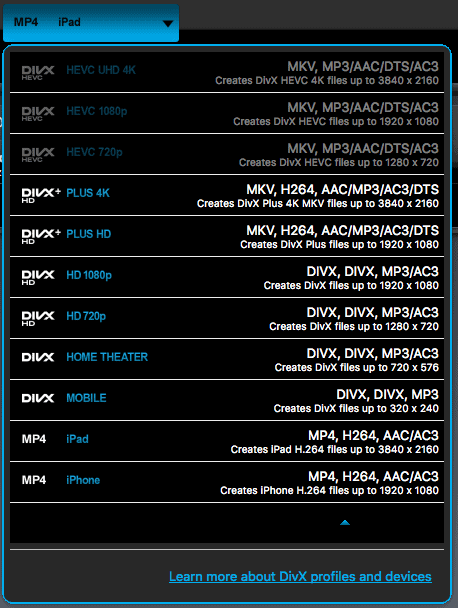 Zoomed in screenshot of only iPad and iPhone profile selections
Once your file has been converted to an MP4 format (a format that works on iOS devices), you're ready to transfer your file to your tablet/phone by attaching your device to your computer and syncing it with iTunes.
This method of getting your videos to play on your iPhone or iPad should work with little effort on your part. This is just another way that DivX technology tries to help make digital media easier to enjoy on your own terms.
Good luck! (And if you ever get stuck, just shoot us a message through our Support site.)