Today we released DivX 10.3, the latest update to DivX Software that includes three major new features to help you do even more with your audio and video.
Chromecast – your most requested feature – is here
You've been asking for it. We've been telling you it's coming (thanks for being patient!). Finally, DivX Media Server is Google Cast Ready so you can enjoy streaming videos from your PC or Mac on to the largest screen in your home using Chromecast.
Chromecast streaming from DivX Media Server means that you can enjoy local videos on your TV. Your DivX, MKV and other videos* stored on your computer can stream up to 1080p. To access this feature, open your video in DivX Player and select the "Cast To" option; choose your Chromecast from the list of devices to begin streaming.
You can also access this feature from DivX Player's Library view. From the list of videos, right-click on the title you want to cast and select "Stream To" then choose your Chromecast device.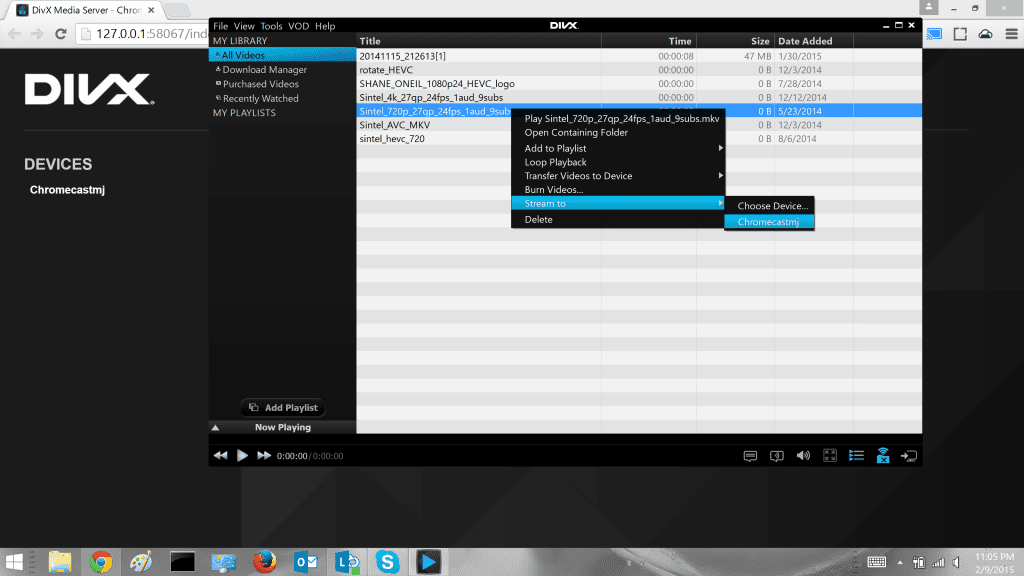 This will open your Chrome browser where you will see a DivX window with the name of your file. The Chrome browser and the Google Cast extension for Chrome are required.
*If FFMPEG is installed on your computer, additional formats like HEVC may be transcoded when streaming.
Video Pack—say good-bye to Blu-rays
We've combined our previous MPEG-2/DVD Plug-in for DivX Converter with the addition of VC-1 support for a new Video Pack.
DivX Converter already lets backup Blu-rays made with the AVC codec for free. Now, VC-1 files can be converted in DivX Converter to any of the high-quality presets, like DivX, DivX Plus (h.264/mkv) or DivX HEVC (h.265/mkv).
Video Pack comes as a 15-day free trial in the free download of DivX Software, so you can try before you buy. After the trial is over you can buy the Video Pack to get both DVD and Blu-ray backup in DivX Converter; just enter your serial number in the free installation to unlock it.
If you haven't already, go download the latest version of DivX Software and enjoy the new features!