Let's set the scene. It's a cold winter night. You've got a fire going and a nice glass of red wine. The soothing sounds of your special slow jams mix tape fill the room. Next, you snuggle up to your computer to install DivX Software. But wait … something's wrong. The installer won't work. Why? For some reason, your anti-virus software has flagged DivX – and now your tears slowly drip off your disappointed face into your wine glass.
Sound familiar? Unfortunately, some users – even the romantic ones – may have an issue with our installer due to a false positive result from anti-virus software.
Fortunately, it's not true. DivX is safe to install and does not contain any viruses or malware. Waiting a day or two, or reaching out to DivX Support can clear up the issue.
So if it's not true, why do anti-virus software programs (e.g. Symantec, McAfee) flag our installer?
It all comes down to how we're able to offer our software for free. In order to create DivX Software, we have many expenses. I won't bore you with the costs, but there's our hard working team (engineering, product development, support, legal, marketing and more), offices, fees for using certain technology licenses and codecs, etc. To help cover these costs, one of the ways we generate revenue is through partner offers during installation. When you chose to accept an offer from one our partners (e.g. Opera, Parallels Desktop, Booking.com), we receive some revenue to pay for our expenses.
You've likely seen third-party offers before when installing software. Hopefully, the offer you see from DivX (like the one below) is one that's of interest to you and improves your experience. If not, you can always choose to skip the offer. DivX Software will still be free and nothing will be installed without your permission.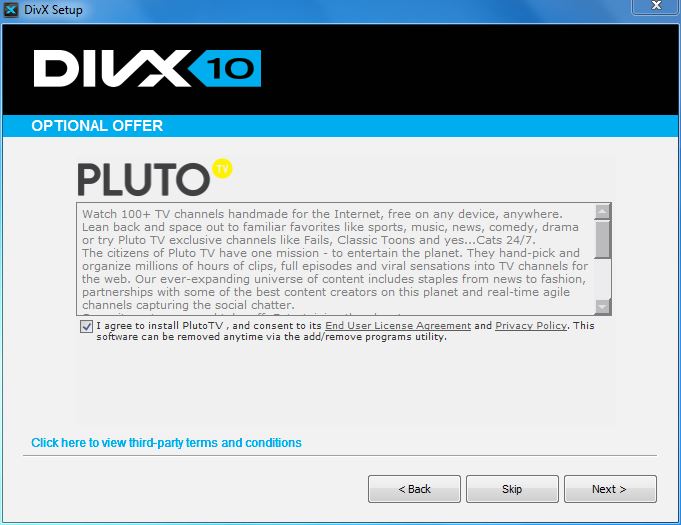 When anti-virus technology views the partner offer in our installer, it often doesn't recognize it and flags it as suspicious. It usually takes a day or two (although it can be longer on occasion) for the unnecessary flag to go away after they determine that our software doesn't contain any malware and it's whitelisted. Unfortunately, this means that when you get a software update alert from DivX, you may find that your anti-virus software thinks you're trying to install something you shouldn't, even though there's no risk.
The reality is that in order to cover costs, we do include partner offers in our installer. (Side note: if you purchase DivX Pro – one of the many features you get is no ads. This means no ads in any of the software products OR the installer. You can even just buy "ad-free" by itself if you wish.) We continue to work on ways to avoid getting flagged, but it's not easy. The anti-virus companies aren't perfect and false-positives happen somewhat regularly. We appreciate you using DivX Software and for your patience if you find yourself staring at malware notification when trying to install our software.  We're not trying to trick you into installing an out-of-date Ask Jeeves toolbar or anything, just trying to keep DivX free!