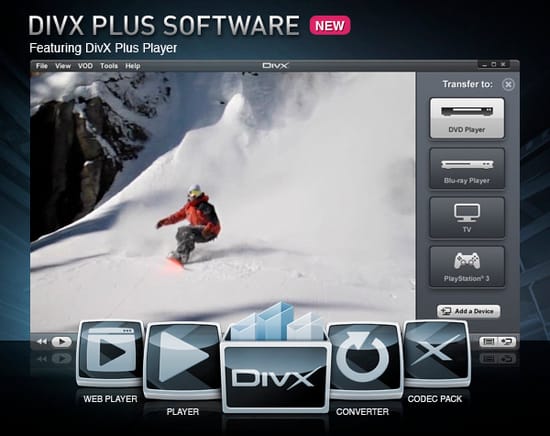 In January, we announced our plans to bring DivX TV to consumer electronic devices. As cool as DivX TV is however, it isn't the only project we have been working on. For the past year, we have also been working hard on the latest version of DivX Software. We have redesigned our bundle from the ground up to include more features, a new interface, and a simpler method for transferring videos to your DivX Certified devices. We call it DivX Plus Software.
Check out some of the new features that we are including in this new bundle after the break:
An intuitive DivX Plus Player that sports our new DivX To Go™ sidebar, connecting the dots between your computer and DivX Certified devices in just a few clicks, via CD or removable storage.
A redesigned DivX Plus Converter that can turn your video files into DivX (.avi, .divx) or DivX Plus (.mkv) videos in one easy step. DivX Plus Converter is part of DivX Pro, however you can now create MKV files for free.
An updated DivX Plus Web Player that lets you enjoy streaming HD videos in DivX and DivX Plus format right through your web browser.
A free DivX Plus Codec Pack that gives you all of the technology components you need to watch DivX and DivX Plus video in other media players. It will also allow you to use Windows 7 to stream your DivX and MKV files to devices like the PlayStation® 3 and Xbox 360™.