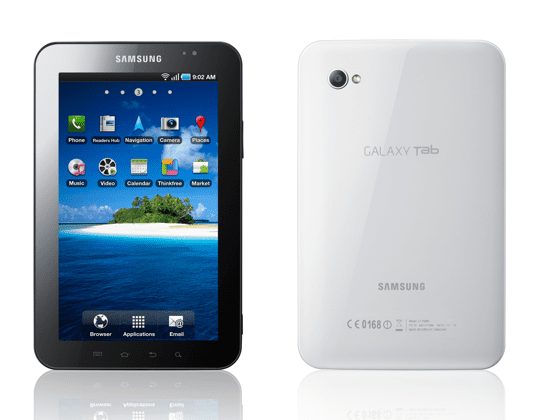 Heads up Apple, there's a newer, smaller (and DivX Certified) tablet in town. Last week Samsung announced their new GALAXY Tab, and the web has been buzzing about it ever since. The tablet boasts a variety of awesome features, but our favorite would have to be that it guarantees DivX playback up to 720p HD (perhaps we are a bit biased). This miniature powerhouse also has a 7-inch touch screen, Flash 10.1, a 1GHz processor, and ships with Android™ 2.2 (froyo).
There has been a plethora (BAM! Scrabble score of 13) of stories and articles, but we decided to pick out a few of our favorites to list below after the break.
Articles:
Samsung Galaxy Tab Preview (via Engadget)
Samsung's Galaxy Tab Runs Froyo, Has Flash and Measures 7 Inches (via Gizmodo)
Samsung Officially Unveils Galaxy Tab (via Mashable)
Samsung announces the Galaxy Tab 7-inch Android tablet (via Android Central)
Samsung Galaxy Tab Hands On with Video (via Android Central)
Samsung Galaxy Tab goes official, gets mid-September European release (via The Next Web)
Samsung Galaxy Tab Android tablet goes official (via cnet crave)
Samsung Galaxy Tab photos (via cnet reviews)
Samsung: Galaxy Tab has leg up on Apple iPad (via cnet news)
If you're looking to get your hands on one of these, they should be available in Europe this month and later in the US and Asia. And after watching this thing in action, I've begun making up my holiday wish list.